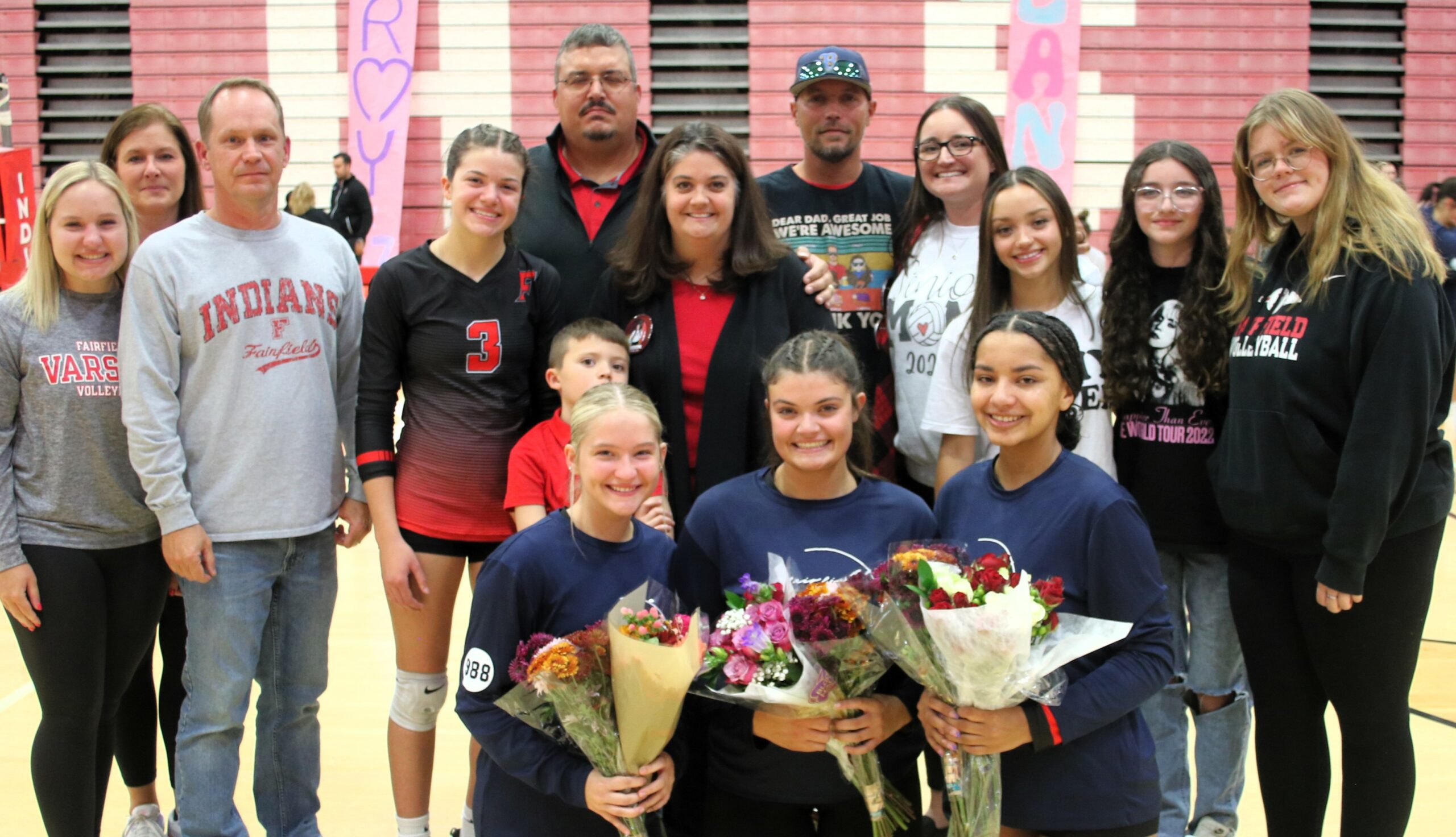 Story by Journee Hill
Photos by Journee Hill and Mark Braam
Tribal Tribune staff
Last week, Fairfield's girls varsity volleyball team won its last home game of the regular season, sweeping Alter in three sets. It was a victory not only for the team, but also for senior players, #1 Camryn Stacy, #6 Leanna Lawson, and #7 Carmyn Pryor! A bittersweet moment it was, seeing the players play their final game and say their final goodbyes to the home fans.
During the JV match, varsity coach Jessi Grimes was asked about Senior Night; what she said inspired tears as she said how much the girls meant to her: "It's always a bittersweet moment seeing them leave. I've always had an amazing time with them, but I'm also happy to see them once more before they leave. I've seen them improve in many ways – it's fun to watch them grow and improve and I truly will cherish the moments I've had with them."
She then took a moment to reminisce about the special moments and fun times she spent with her players, specifically the senior players: "Usually it's our matches that have the best moments; they always dance during matches and it would drive me crazy, but we knew they were only having fun and that's what mattered most."
Coach Grimes really cares for her players and although it's sad for her to see the seniors leave, it's good to know that she's had pleasant memories with them.
After the varsity game began, it was time to interview a senior parent. Carmyn Pryor's mother, Nicole Pez, talked about how proud of Carmyn she was and how happy she is to see her daughter succeed in something she enjoys: "Going to Carmyn's last game and seeing her get so close to graduating is such a bittersweet moment. I'm proud to see her grow and improve over the years and I always love going to her matches and watching her play. I truly will miss her when she goes off to college." An entire section in the Arena had only Carmyn's friends and family filling it – it was sweet to see so many supporters all for one person.
Near the end of the third set, the score was 24-19; it was match point for a Fairfield victory. After so much suspense, the final point went to the Indians, making them the victors of the last home game of the year and claiming a final Senior Night For additional Hill and Braam photos, go to bit.ly/FFGVolleySenior23